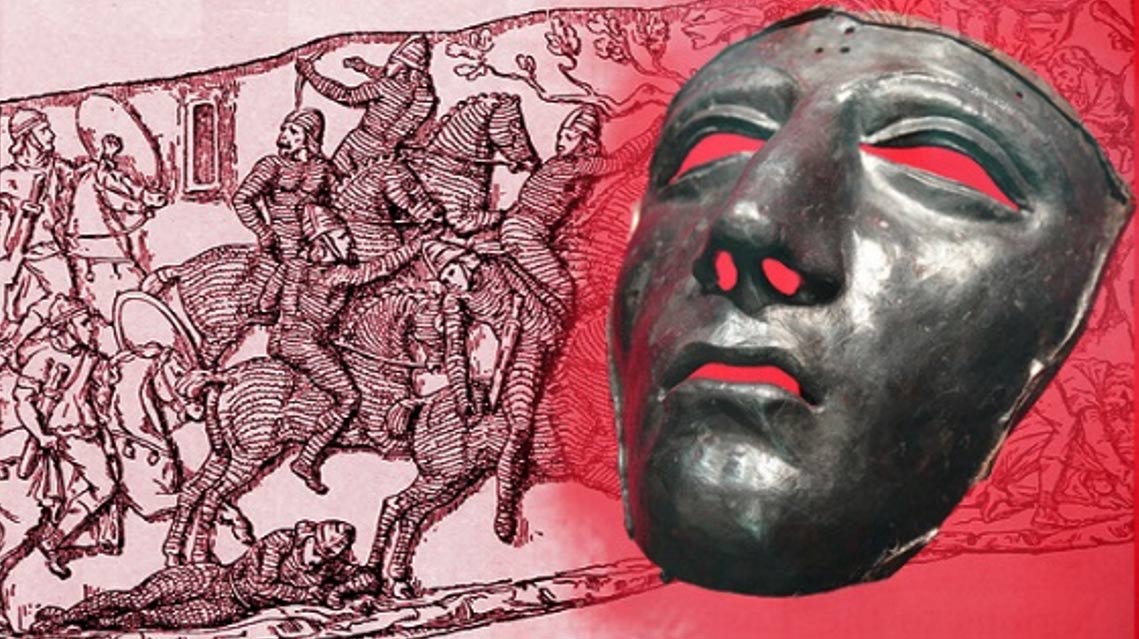 After the crushing defeat of Marcus Licinius Crassus and the Roman army at the Battle of Carrhae, a campaign was planned by Roman leaders such as statesman Julius Caesar and General Marcus Antonius (Mark Antony) to drive east, conquer, and secure the Parthian Empire once and for all.
Mark Antony was a Roman politician and general, who was a member of the Second Triumvirate. Like Crassus, before, Antony was enticed by the riches of the Far East and the potential glory it could bring through military conquest. This became known as Antony's Parthian War.
In 37 BC, Antony began preparations for war. His first act was a campaign to squash, replace, and consolidate many of the regions in Asia-Minor and along the Levant that were sympathetic to the republican cause or to Parthian rule. He made sweeping changes throughout the regions, establishing Darius in Pontus, Herod in Judea, Polemon in Cilicia, and Amyntas in Pisidia. However, these were just a fraction of the many changes that took place. Once his western flank was secure from possible rebellion, Antony set his eyes on Armenia.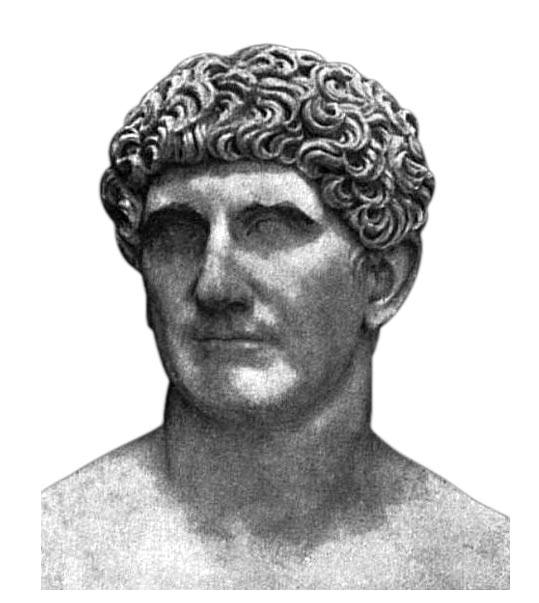 Marcus Antonius (Antony). (Public Domain)
Blood and Treasure
Antony secured the various provinces in Asia-Minor under Roman hegemony, but he still had one basic issue stopping him from proceeding with his Parthian campaign: money. Antony was cash-strapped. Even those rulers Antony had established in Asia-Minor that were pro-Roman could offer little funding, for Asia was bankrupt.
In order to acquire the funds needed to pay for his grand expedition against Parthia, Antony turned to the age-old practice of debasement—lowering the value of coin by mixing the silver denarius with iron. But even this was not enough. Since taxation and inflation could not provide the funds Antony needed, his last option was borrowing.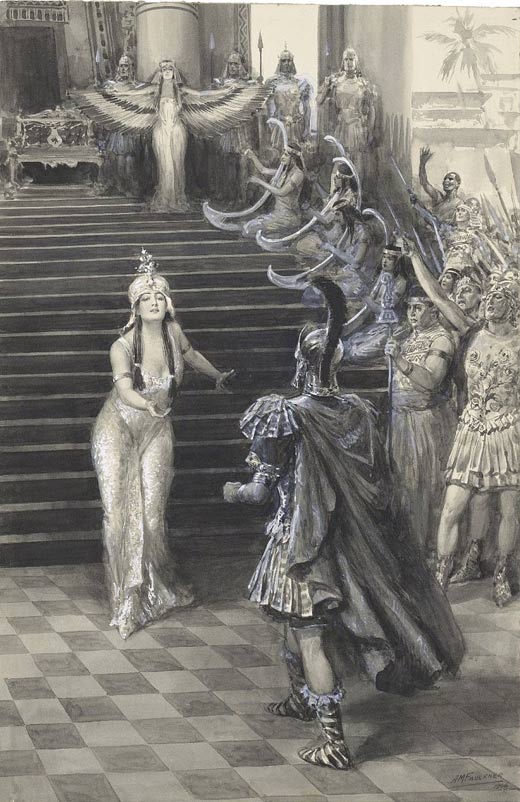 Cleopatra greets Antony. She assists his war against Parthia. (CC BY-SA 4.0)
As he made his way towards Syria, he requested that Cleopatra, his love and financier of war, meet him in Antioch. Once Cleopatra reached Antioch, Antony exchanged provinces for money, particularly the provinces of "Phoenicia, Coele Syria, Cyprus, and a large part of Cilicia; and still further, the balsam-producing part of Judaea, and all that part of Arabia Nabataea which slopes toward the outer sea."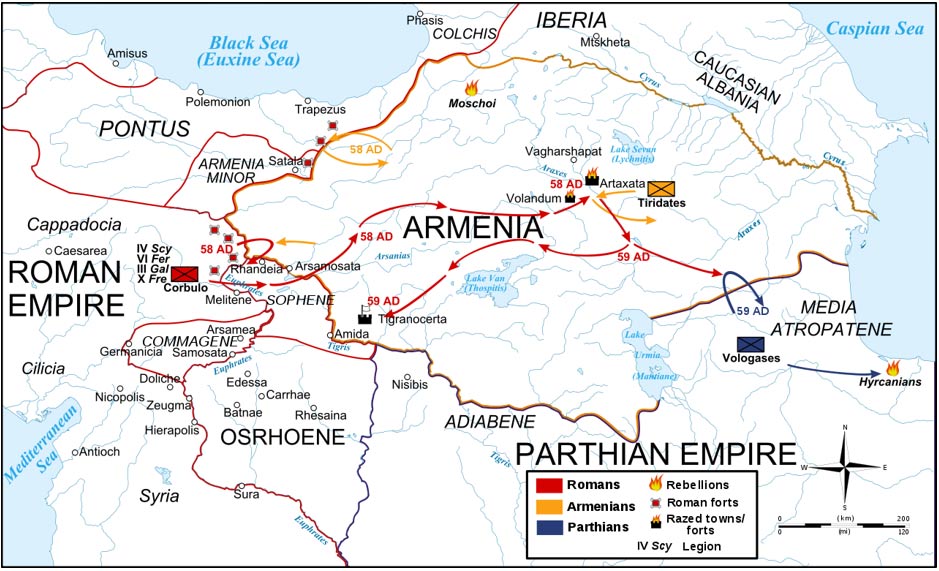 Map of the troop movements during the first two years of the Roman–Parthian War of 58–63 AD over the Kingdom of Armenia, detailing the Roman offensive into Armenia. (CC BY-SA 3.0)
With Cleopatra's financing, and his territorial holdings stabilized, Antony began the process of assembling his massive juggernaut consisting of 60,000 Roman infantry, 10,000 Iberian and Celtic cavalry, and 30,000 troops comprised of other nations. This required a massive amount of resources needed to grease the wheels of the army. There should have been an additional 20,000 legionaries sent to Antony under a deal struck between him and Octavian at Tarentum but they never materialized. In total, Antony had 113,000 troops at his disposal, if not more— twice the size of Crassus' invasion force of 53 BC—poised for immediate action.
However, this is where Antony got into trouble. The Roman forces that had mobilized for war were tired and needed to rest, especially the main body, the Roman infantry, which had just marched a thousand miles, not to mention that when they arrived it was the winter of 37-36 BC. Antony's reason for starting the war before spring was his desire to be with Cleopatra. Once Antony and Cleopatra reached the Euphrates, he had to make a decision: take the path Crassus took, or head north and invade Media Atropatene, a Parthian client state, via Armenia.
Pushing into Parthia
Antony chose to head north towards Armenia. Once he made his decision, he sent Cleopatra back to Egypt. The reason for Antony's choice is obvious. Phraates IV, ruler of the Parthian Empire had beefed up his defenses along the Euphrates and was watching Antony closely.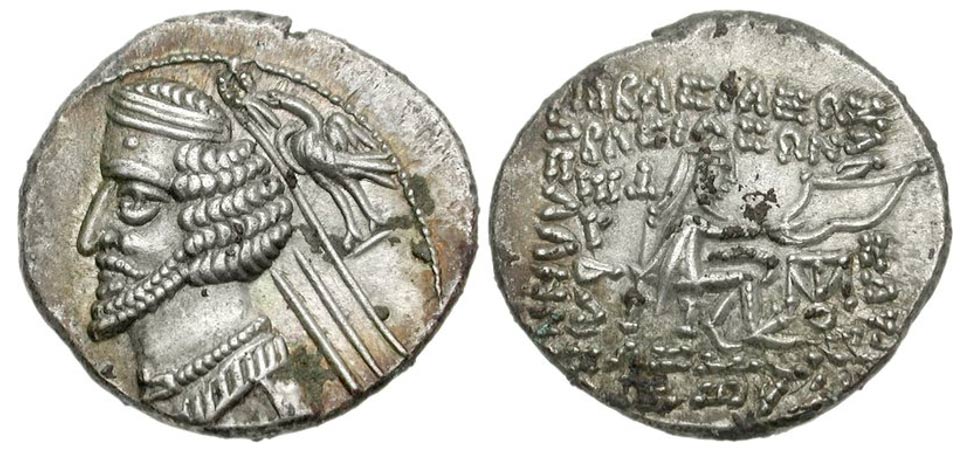 A coin face depicting King Phraates IV of Parthia. (Classical Numismatic Group, Inc. www.cngcoins.com /CC BY-SA 3.0)
With Cleopatra heading back to Egypt, Antony headed northward from Zeugma on the advice of King Artavasdes of Armenia. The king's forces of the ancient kingdom of Media Atropatene were with the Parthian forces guarding the Euphrates. Thus, if one desired to enter Parthia, then Media Atropatene was their brief blind spot—and it should be taken advantage of quickly. Moreover, Media Atropatene was rugged terrain, which would negate the use of cavalry, thus forcing the horse-proud Parthians and their allies into hand-to-hand combat with the Roman legionaries.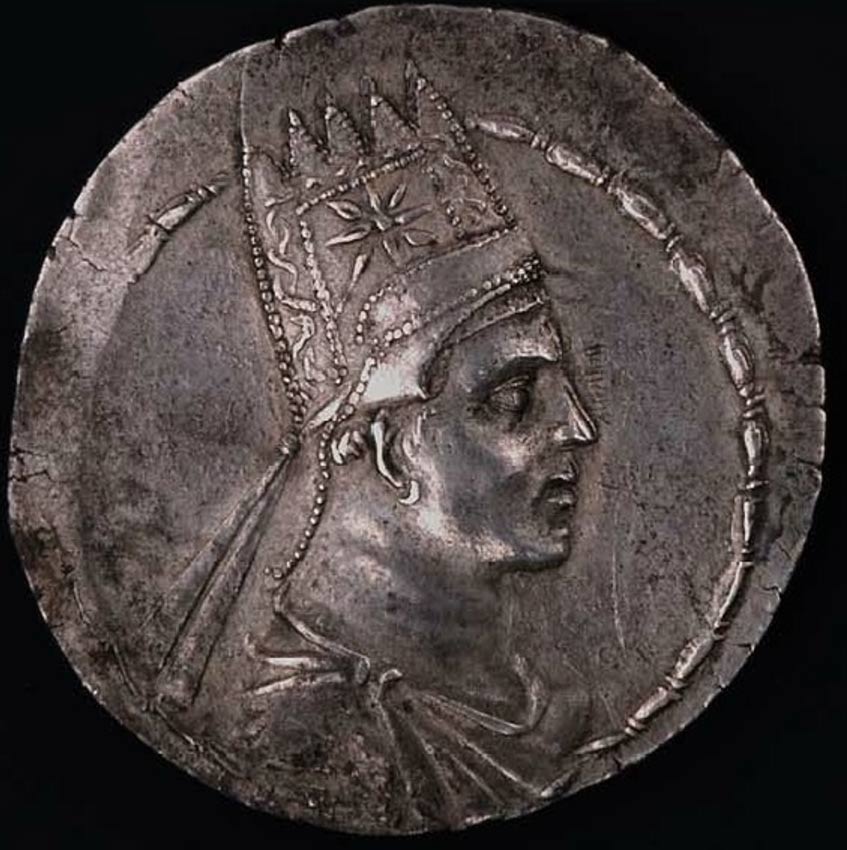 The coin of Artavasdes II, King of Media Atropatene. (CC BY-SA 3.0)
As Antony made his way into Armenia, Artavasdes proudly displayed and offered Antony "6,000 thousand horses drawn up in battle array in full armor and 7,000 foot."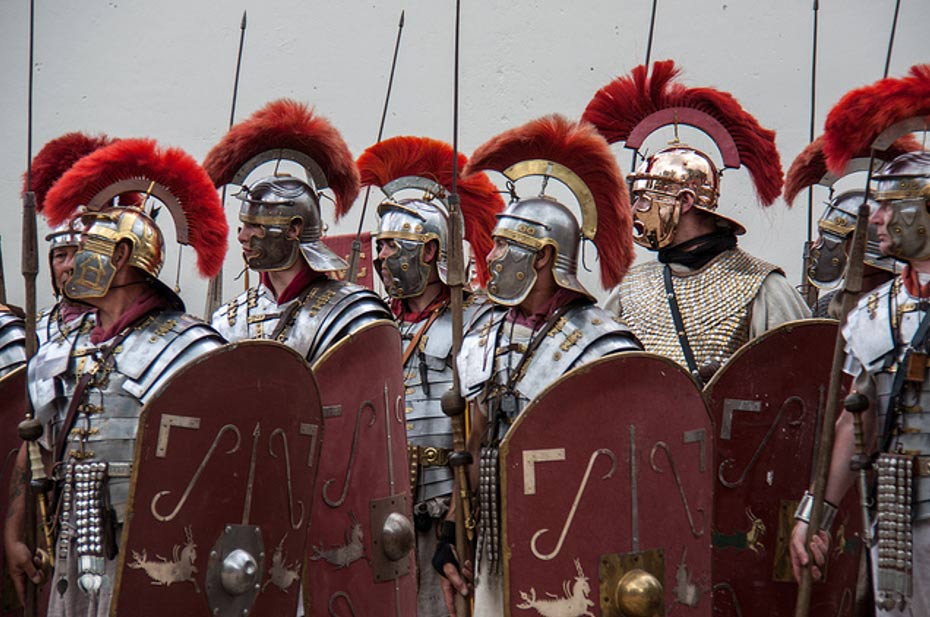 Antony amassed a Roman juggernaut of thousands of Roman infantry, Iberian and Celtic cavalry, and tens of thousands of troops comprised of other nations. (CC BY-ND 2.0)
Informants among the Romans and those nearby watching the progress of their movements relayed the information to Phraates. Knowing that the Romans soon would enter the Parthian client state of Media Atropatene, Phraates sent a message to four hundred Parthian nobles to assemble their forces, which totaled 50,000 cavalry, and prepare to forestall, frustrate, and divert, if not ultimately destroy, the Roman forces.
It's a Trap
As the Roman forces moved towards Praaspa, the capital of Media Atropatene, they did so without hindrance. One would think Antony would grow suspicious, since he had not encountered the enemy during the long journey deep into enemy territory. But then again, he trusted his guides without question and never once considered that maybe he was walking into a trap. This is where Antony committed his second blunder. Growing impatient with the speed of his forces, he decided to divide his army.
Antony was growing tired of the sluggish pace. It was not his infantry or cavalry causing the slow movement, but the siege engines and baggage train. The reason for their slow movement went beyond being weighted down with supplies. Antony had led his army through the dense forests of Media Atropatene; it was easy for infantry and cavalry to maneuver through, but the large cumbersome wagons and siege engines on narrow roads required tree removal, which was a task unto itself.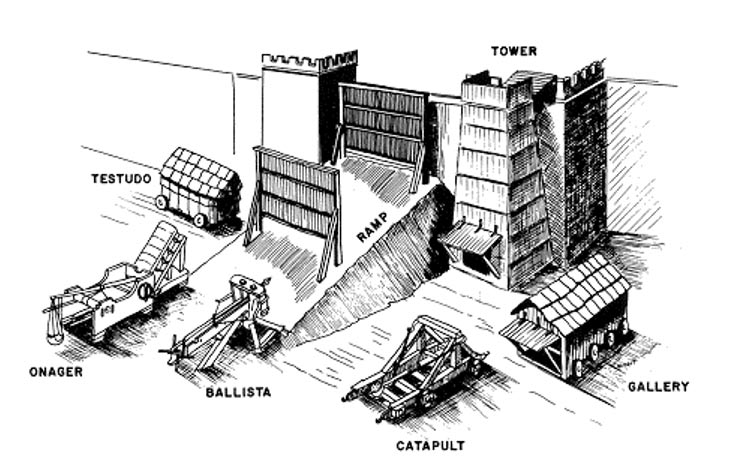 Siege engines were large and cumbersome, and built heavily. They slowed the pace of an advancing army. (Public Domain)
Antony had three hundred wagons to carry the siege engines, one of which was a battering ram eighty feet long. If the siege weapons were captured or destroyed, they could not be replaced in time, and even if they had time, the wood in the region was not sufficiently long or strong enough. On top of all that, the baggage train carried valuable supplies, such as food, weapons, clothes, officer's tentage, and medical supplies. Overall, the baggage train was the lifeblood of the army.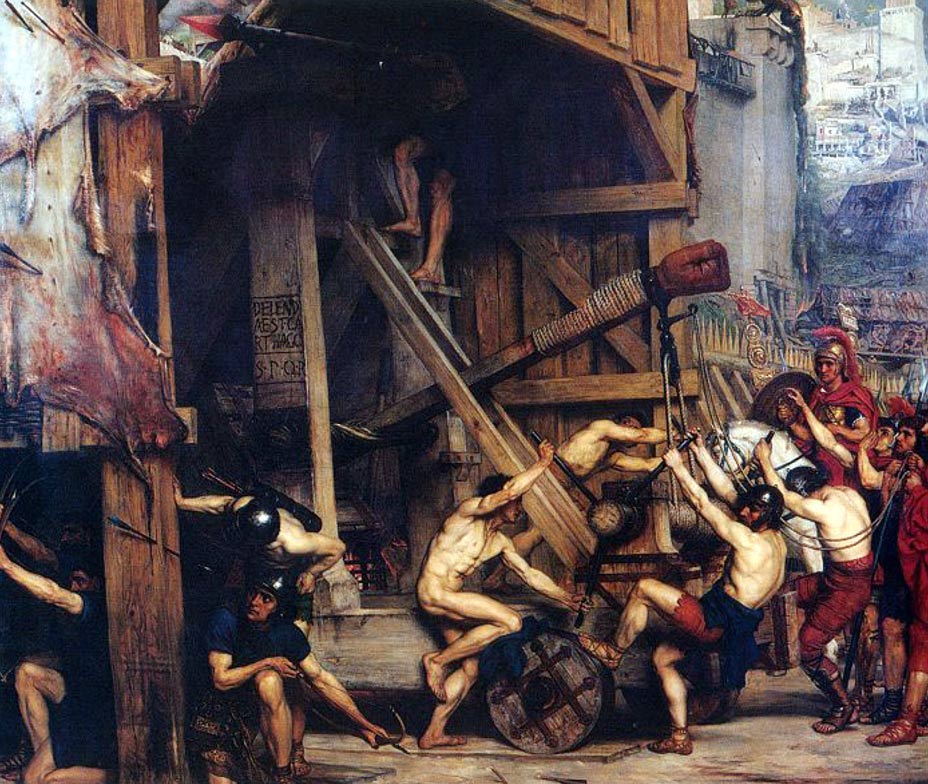 Siege engines were employed by the Roman army during invasions. (Public Domain)
Antony decided to split his army in two; he took the bulk of the force, and placed the baggage and siege engines under the command of Brigadier General Oppius Statianus with a security force consisting of two legions. Once Antony detached himself from his burden, it was full steam ahead.
Seige on Praaspa
Antony was confident that he could take the city of Praaspa with ease. Once outside the city walls, the Romans quickly began the grueling task of building earth mounds in preparation for the arrival of siege equipment, particularly the towers. As the earth ramps moved closer to the walls, one can only imagine the carnage suffered by the Romans below. But as time passed, there was no sign of the siege equipment. With no siege equipment in sight, Antony gave the order to assault the walls; one can speculate that the Roman infantry was using makeshift ladders or other ineffective climbing devices. But the numbers of men participating in the assault were ineffective since the walls were strong and heavily defended. With no success in gaining a foothold on the walls, nor any siege engines in sight, Antony grew weary, impatient, and wanted to know why the delay.
Then Antony received terrible news: the baggage train under the command of Statianus had been attacked, the two legions assigned to escort the train had been slaughtered, and the siege equipment destroyed. Many men were taken prisoner, including Polemon, king of Pontus, who was later released on ransom. The person responsible for this was none other than King Phraates himself.
While Antony busied himself with the siege of Praaspa, the Parthians kept a close eye from afar on both the besiegers and the vital baggage train. Once Antony's forces were dug in, Phraates took advantage of the situation by sending in a large number of cavalry for a surprise attack. But when considering the dense forests of Media Atropatene, it is possible that the cavalry were aided by Median infantry. In some ways, the attack of Antony's baggage train was similar to the Battle of the Teutoburg Forest in 9 AD, in which the Romans were moving through a dense German forest and not marching in combat formation, making them subject to devastating attack.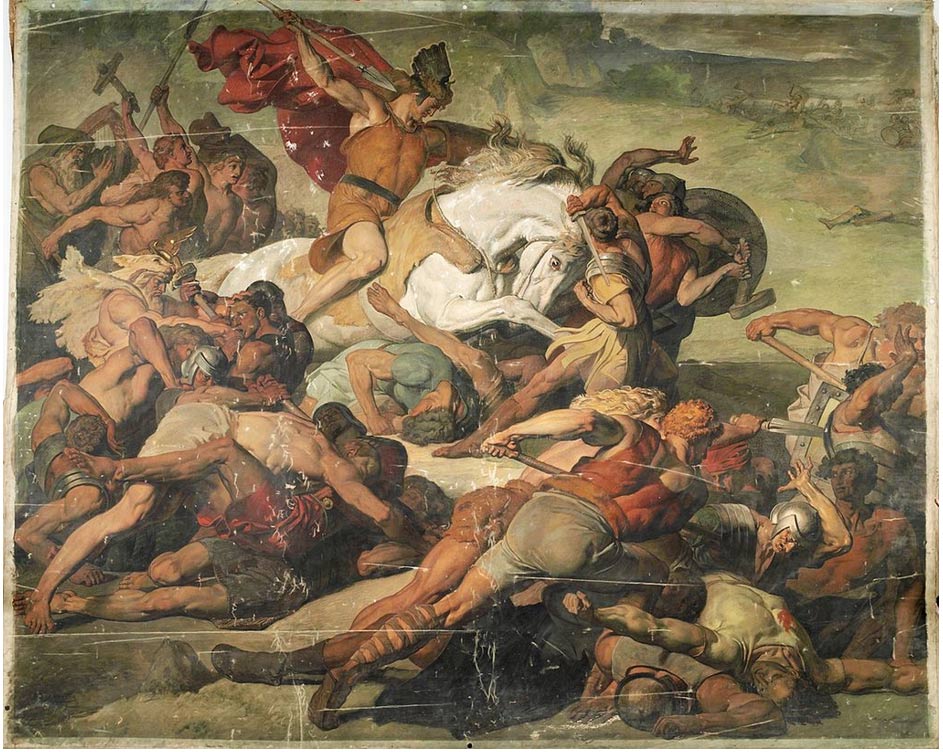 The Roman army was massacred in the Battle of Teutoburg Forest in 9 AD. (Public Domain)
The legions assigned to protect the baggage train under Statianus were not marching in combat formation since, in addition to providing security, they had to move wagons, and clear trees, dead brush, and the occasional rocks along the way. Also, notice there was no cavalry assigned to Statianus to scout ahead and keep a close eye on their surroundings nearby. It seems plausible that the Romans were attacked with a barrage of arrows, after which Median infantry charged in and cut the Romans to pieces.
Meantime, where was King Artavasdes of Armenia? Evidently, Artavasdes' mission was to support the rear with Statianus. Plutarch mentions that Artavades left due to "despairing of the Roman cause." Cassius Dio says that he responded to the "message sent to him by Statianus, to go to his assistance, was nevertheless too late, for he found nothing but corpses." Both sources seem to be correct when placed in context.
Artavades did respond, and when he saw the number of corpses, burnt wagons, and the smell of death in the air, became distressed at all he had witnessed. Suspecting Antony's forces had been annihilated, he reversed course and headed for home before his forces ended up the same way.
But even this account is lacking. Considering that Antony did not provide Statianus cavalry to scout out the area, one would think that it would have been Artavasdes' duty to send out cavalry scouts and inform the legions escorting the baggage train of any oncoming enemy attacks, and to take part in the defense, if not a counterattack. It becomes evident that Artavasdes was nowhere near the legions escorting the baggage train and his retreat to Armenia looked as if he had betrayed Antony. If there was one person who could speak on behalf of this disaster, it would have been Polemon, king of Pontus; but his testimony remained silent.
Overextended and Undersupplied
With the siege engines destroyed, two legions massacred, and the food running low, Antony had to make quick decisions. Food was his top priority, but as if matters could not get any worse, the Parthians presently arrived in full battle array and challenged the Romans by first shouting insults. Antony understood that if he were to sit still, the Parthians would increase in number and harry his men with hit and run attacks. Antony quickly made a decision to go forage for food. He took "ten legions and three praetorian cohorts of men-at‑arms, together with all his cavalry." But he had another motive, to get the Parthians to engage in a pitched battle.
After a day's march, Antony set up camp, but soon he had to take it down, for scouts brought information that the Parthians were on the move. They knew where the camp was and were quickly moving in to envelop him. Once the Roman forces assembled, Antony gave the order to move out.
Antony sought to avoid battle, but made it clear that if the enemy came within range, the cavalry should charge out against them. The Parthians did come within range and the Roman cavalry quickly scattered them. After seeing the success of the cavalry, the Roman infantry joined the charge and frightened the Parthian horses by yelling and clashing their weapons against their shields, causing them to flee.
Antony quickly took advantage of the situation and pursued the enemy. However, it was all for nothing. The infantry and cavalry were exhausted, they could not keep up with Parthian cavalry, and, to make matters worse, they had nothing of substance to show they had been victorious. Their great efforts produced 80 dead and 30 captured. The Romans were beside themselves after losing 10,000 men along with their baggage train and siege engines, when compared to this measly victory, if one could call it that. But in fact, it was not a battle or a victory. Rather, the Parthians were testing the waters by conducting guerilla hit and run attacks, tactics that the Romans had a hard time understanding when facing the Parthians.
The next day, Antony gave the order to head back to Praaspa. While on the move, the Romans encountered a few enemy forces, but as they continued on, their encounters with the Parthians increased until the whole body showed up, challenging them, and attacking from all directions. Antony kept moving to avoid disaster. Eventually the Romans made it safely back to Praaspa. The Parthian forces that attacked Antony were conducting hit and run attacks, for their goal was not to destroy the Roman forces, but rather to demoralize them. In other words, they were tenderizing the Roman forces before commitment to full-scale attack later.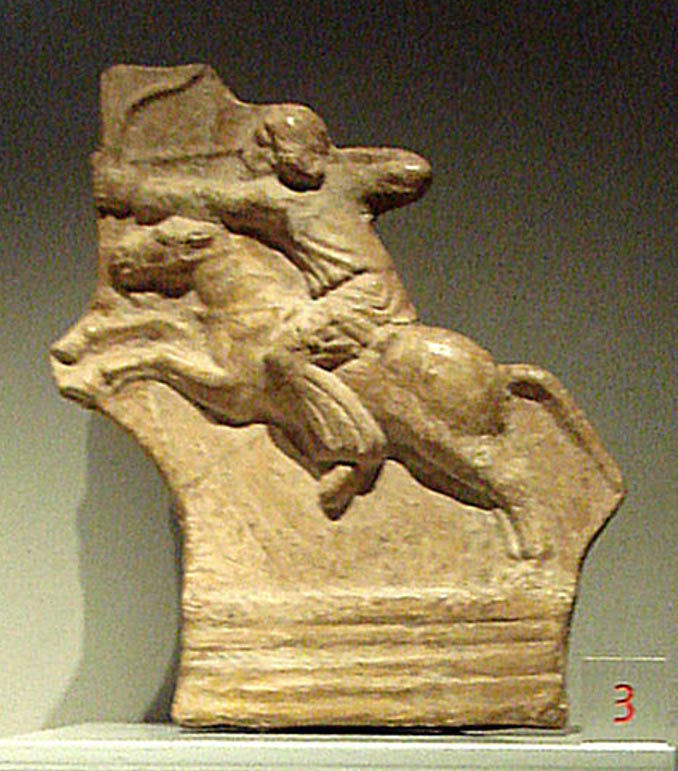 Relief of Parthian horseman, a highly skilled warrior, performing a Parthian shot. (CC BY-SA 3.0)
Once Antony made it back to the siege at Praaspa, he received startling news. While he was away, the Median defenders were able to successfully attack the Roman besiegers, dislodging them from their positions and safely returning behind the walls of the city. This went on for some time. Antony, enraged by the lack of discipline due to his men not standing their ground, decided to take a disciplinary measure known as "decimation," in which one of every ten soldiers were executed. As for the rest of the besiegers, their punishment was that they would receive rations of barley instead of wheat. But with food running low and Roman foraging parties bringing back more dead and wounded than food, Antony had to do something quick if he wanted his army to survive.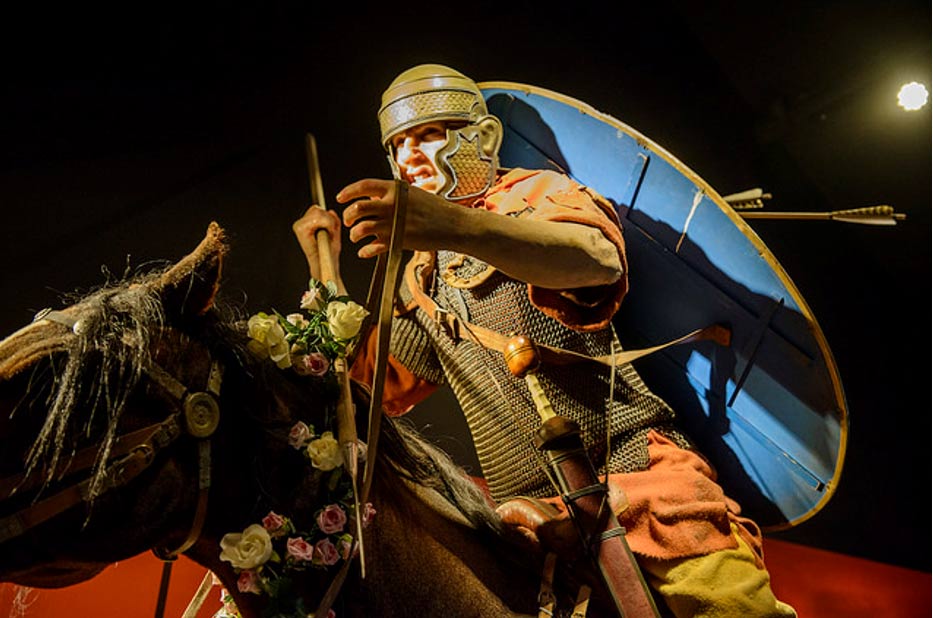 The situation was desperate for the Romn army. (CC BY 2.0)
Phraates felt the same way about his own forces. Summer was gone, the air was getting colder, and he, like Antony, did not want to encamp for the winter. Unlike Antony, he was afraid that many of his men would desert due to the winter distress.
As the siege continued, some Parthians who admired the Romans for their bravery and strong will, were able to ride up next to the Roman cavalry, where they would talk of peace and explain to them that Antony was a fool if he were to stay.
Phraates offered to escort them out of Parthian territory peacefully. The king wanted to end this stagnated war before winter arrived.
The Beginning of the End
Antony received the news and considered their proposal: that if the Romans agreed to Phraates' kind gesture of escorting them out of Parthian lands peacefully, the king would hold his word. Antony agreed and sent an envoy to meet with Phraates.
When they arrived, the king was "seated upon a golden chair and twanging his bowstring." The Romans agreed to peace, but delivered their own terms. Phraates must return the Roman standards they had in their possession if he desired peace. Of course, Phraates objected to this and assured Antony of a safe escort home. Antony thought long and hard over this, but he had no other option. The walls of Praaspa were too strong, he had no siege equipment, food was running extremely low, and any attempt to search for a meal resulted in death. If starvation did not kill you, the winter surely would. The Roman general made the decision to leave. This was not easy for Antony and it was hard for him to explain this to the men, so he had Domitius Ahenobarbus deliver the speech. Antony felt like a failure in this great endeavor, but even he understood that it was best to fail while alive and the majority of his men intact than end up like Crassus at Carrhae.
If the debacle at Praaspa was not enough, the retreat was far worse. Antony lost many thousands more men on the long retreat home due to enemy harassment, cold weather, toxic plants, and poisonous water. Antony, like many of his men, could not wait to see the Araxes River, which served as the border between Roman friendly Armenia and the Parthian client state of Media Atropatene. The nightmare was over once they crossed, but the war between the two powers would continue.
Featured image: Deriv; face mask for Roman cavalry helmet, first century AD (CC BY-SA 2.0) and battle scene featuring Parthian horsemen in armor, and Roman riders. (Public Domain)
References
Appian. Appian's Roman History, trans. Horace White, 4 vols. Cambridge, MA: Harvard University Press, 1958.
Debevoise, Neilson Carel. A Political History of Parthia. Chicago, Ill: University of Chicago Press, 1938.
Dio Cocceianus, Cassius. Dio's Roman History, trans. E Cary, Loeb Classical Library, 9 vols. Cambridge, MA: Harvard University Press, 1954.
Farrokh, Kaveh. Shadows in the Desert: Ancient Persia at War. Oxford: Osprey Publishing, 2007.
Graham, Daryn. Rome and Parthia: Power, Politics, and Profit . North Charleston, South Carolina: CreateSpace Independent Publishing Platform, 2013.
Josephus, Flavius. The Complete Works of Josephus, trans. William Whiston. Grand Rapids, MI: Kregel Publications, 1990.
Justinus, Marcus Janianus. Epitome of the Philippic History of Pompeius Trogus, Trans. John Selby Watson. London: Henry G. Bohn, York Street, Convent Garden, 1853.
Paterculus, Velleius. The Roman History, trans. Frederick W. Shipley. Cambridge, MA: Harvard University Press , 1961.
Pliny, H. Rackham, W. H. S. Jones, and D.E. Eichholz. The Natural History. London: Folio Society, 2011.
Plutarch. Moralia. Translated by Frank Cole Babbitt. Cambridge, Massachusetts: Harvard University Press, 1962.
Scott, Beth F. James C. Rainey, and Andrew W. Hunt. The Logistics of War . Maxwell AFB, Gunter Annex, Ala: AF Logistics Management Agency, 2000.
Velleius Paterculus, Roman History, 2.82.
Dio 49, 25; Neilson Carel Debevoise, A Political History of Parthia (Chicago, Ill: University of Chicago Press, 1938), 126.